---
Music and teaching are two of my greatest passions, and I look forward to sharing that passion with you.

I've been drumming all of my life and I enjoy working with all styles of music. As both a teacher and player, I believe in developing a strong foundation and technique that allows our unique voice to come out as a drummer. During lessons I employ a wide range of methods based on your goals, and I enjoy working with all different skill levels.

Click here to learn more about me, read my student testimonials here, browse some of my videos here, and contact me if you have any questions.


---
What Students are Saying
Slide 8 - Navi
"I started taking lessons with him to see if playing drums is for me. Today I have transformed into a passionate and confident drummer / musician who has just given his first public performance in a local jazz club. I can also read sheet music and easily collaborate with other musicians speaking the same language. I attribute all my success to Scott!!!"
Slide 8 - Rick James
"Scott's a great teacher, drummer and epic dude. I look forward to my lesson each week. I've never played drums and decided to start taking lessons to see what was possible. It's a great break from work and each lesson I learn new techniques that cater to my pace and learning style."
Slide 8 - CK A
"I am a self taught drummer with over a decade of experience. Scott helped to set me straight on important fundamentals and gave me some really important new areas to expand my playing. Scott is both a great teacher and a great drummer."
Slide 7 - Kalev
"Scott was able to come up with a lesson plan that really makes me push myself and grow a lot faster as a drummer than I thought that I could. He's teaching me not just how to be a better drummer, but how to be a better musician."
Slide 4 - Vlad B
"I've been Scott's student for a couple of years now. He told me: "my goal is to make you a gigging drummer". Since then I've played a number of gigs covering songs, and my original music got a lot more interesting too!"
Slide 5 - Lorenzo A
"He is not just a professional drummer who happens to teach, but a professional drum teacher, who gives a structure to your learning and starts with the right rudiments to build a solid foundation."
Slide 8 - Melissa
"I'm a beginner and have been taking lessons from Scott for about 7 months. I checked out a few different teachers before settling on Scott and I'm very happy with that decision. He's patient but also challenges you -- and he keeps it fun. I always leave each lesson feeling inspired."
Slide 8 - Stephanie C - B
"Scott is really fun to work with. He has a really great positive energy, teaching style and a wide range of music knowledge."
Slide 1 - Chris A
"I tried online video courses and a few other drum teachers but none of these options came close to the teaching offered by Scott."
Slide 3 - Ana
"His approach is very unique and it is the reason I always came back. There were days I thought drumming wasn't for me but his knowledge, patience, and style of teaching was enough to keep me going."
Slide 8 - Tony B
"I would guess I have had at least 20 hours of instruction from Scott. My band mates notice my improvements each week we rehearse, and I feel Scott's lessons have given me the confidence to jam with some pretty experienced cats and in front of a large audience."
Slide 8 - CK B
"Scott will tailor the lessons to your goals. Scott takes notes about your progress and pushes you to focus on what you're not good at, tailoring exercise for you to improve your mechanics, your music reading, and your knowledge base."
Slide 2 - Vlad A
"Scott's musicianship, his ability to explain and demonstrate technical and theoretical aspects of drumming are as educational as they are inspiring."
Slide 8 - Diana
"I've always wanted to pick up drumming again since abandoning it during my teen years. I wasn't sure how that would go as an adult but having Scott as my teacher was one of the best decisions I've made, hands down!"
Slide 8 - Mark C
"Scott is encyclopedic about drumming. He knows and stays current with all the teaching approaches and methods, goes to clinics frequently to keep his knowledge up, has a library of the great books and teachers. I always learn about the craft and discipline of drumming from Scott, in addition to improving my playing."
Slide 8 - Stephanie H - A
"I missed playing drums, which I had tried to teach myself in high school. I am starting basically at a beginner level and, after 5 or 6 lessons with Scott, I'm already seeing vast improvements in my technique. My passion for the drums has been completely revitalized!"
Slide 8 - Chris E
"Scott has helped me understand the mechanics of the limbs and how they move effectively to prevent long term fatigue and injury. He makes precise observations on my playing style and helps my form. I've already noticed a huge difference in how I'm able to play more loosely and my ability to play with my weaker hand and foot."
Slide 8 - Robyn
"I'm an instrument and drumming newbie who finally decided to give lessons a go. Scott has been extremely patient and encouraging at each lesson. Each session builds on itself and strikes the right balance between focusing on the fundamentals and actually getting behind the kit. I love that I'm learning to read music, about how drumming styles vary by genre and the techniques behind each music type."
Slide 8 - Stephanie H -B
"Scott is a talented drummer, a really nice guy, and - most importantly - a great and effective teacher. He is patient, pays attention to my progress, and remembers my strengths and weaknesses, even when there are weeks between my lessons."
Slide 8 - Maggie C
"He gives great advice about certain questions and takes the extra step to make sure you have full comprehension. Even more, it's not like grade school where you have to master one piece before moving on. Rather, it's master as you go, which is pretty awesome. You have the opportunity to surprise yourself with how far you have come."
Slide 8 - Chris B
"I've been taking lessons for about a year with Scott and I'm extremely pleased with the progress made so far. Scott has trained with some of the greats and he helps share that experience in a very accessible teaching method."
Slide 8 - Tyler W - B
"I had some bad habits and Scott is taking the time to break me down to build me back up as a more proficient musician which has only furthered my progress."
Slide 8 - Diana B
"Scott is genuine, dedicated and extremely knowledgeable in his craft. He creates a friendly and open environment that allowed me to embrace my mistakes and learn from them at my own pace. I felt every lesson was useful and I progressed more than expected."
Slide 6 - Lorenzo B
"Starting as a total beginner, I have been learning with him since 2017, and every time it gets better. Thanks to his teaching, I am making some progress that I didn't think possible... and I am having a lot of fun along the way."
Slide 8 - Chris D
"I've always wanted to learn to read music. Scott started me off at the very beginning and coached me to where I had the basics, could speak the language, and then we built off of that foundation and continued to learn more complicated notation. Using that layered approach, I can now transcribe my drum notes. I can also read quite quickly now"
Slide 8 - Christina A
"Scott is completely professional, patient, and really has a mastery of his craft. While he is definitely credentialed and more than qualified to teach the drums, Scott's passion for and understanding of rhythm and percussion is incredible and seems unparalleled."
Slide 8 - CK C
"There is no shortage of material that Scott can teach you, or shortage of useful background and context about the styles you're playing and the concepts and artists who helped to innovate them."
Slide 8 - Navi B
"Every class he will help me understand the fundamentals and practicing them on the kit along with homework. He will take copious notes, provide constructive feedback, and encourage you to go beyond your imagination."
Slide 8 - Stephanie H -C
"In the past, I've had instrument lessons that sometimes felt less like a hobby and more like work. But the drums manage to be both challenging and incredibly fun, and Scott really makes taking lessons a fun, enjoyable experience. And the more you see yourself quickly improving, the more fun it gets!"
Slide 8 - Ciara
"Scott has taught me a great deal about the fundamentals of drumming. Concepts are clear, precise, and inspiring. He is extremely patient and kind-hearted...Nothing but encouragement and practical advice as to how to improve."
Slide 8 - Joan A
"I have been taking drumming lessons from Scott since July. He is so talented, inspiring and patient! Even though half the time I feel like a klutz behind the kit, I also see the amazing progress I have made..."
Slide 8 - Maggie A
"What an amazing teacher! Well organized, focused, passionate, patient. A complete professional."
Slide 8 - Kevin
"Fantastic teacher for all speeds. His passion for drumming is infectious and he always has a clear and well thought out lesson plan. On top of that he is just really fun to hang out with!"
Slide 8 - Stephanie C - A
"I have been taking drumming lessons with Scott for the past year and would highly recommend him. I had zero experience playing prior to working with Scott and I was quickly able to feel really comfortable on the drum kit and make way more progress than I expected over the course of my lessons."
Slide 8 - Maggie D
"He is well versed in a variety of music styles and acknowledges and supports your goals as a drummer. I cannot say enough about Scott's teaching style. Third time is the charm. Even my neighbors say I'm doing better! I cannot recommend Scott enough."
Slide 8 - Robyn B
"Scott challenges me each week, adding just the right amount of new material without piling on too much. He also has some great techniques for strengthening individual weaknesses (hello left hand), and I'm increasingly more confident about actually making beautiful music someday."
Slide 8 - Tony A
"He is very patient and very encouraging (exactly what I needed) And I recognize I can make great progress and never out learn with his instruction, because he is also a student himself. If you are looking for a dedicated teacher who is passionate about his craft then I highly recommend Scott as your teacher."
Slide 8 - Tyler W - A
"Scott is a phenomenal teacher. I have been playing drums recreationally for 1 1/2 years or so and with 3 teachers in 3 different cities and after 3 months with Scott I have noticed a dramatic improvement."
Slide 8 - Christina B
"His teaching methods seem perfectly paced, and I know that is because he is really paying attention to where I'm at in my process. (Even when I'm hopped up on caffeine in a lesson). I still can't believe i'm doing the things I'm doing on the drums already!"
Slide 8 - Chris C
"Each lesson is a smart, controlled step towards my goals of improvement. He even keeps notes on my progress so there is no loss in the continuity of our lessons. You can tell that thought goes into how he structures his lessons, which are specifically tailored to you."
Slide 8 - Maggie B
"After years of wanting to learn and two disappointing teachers I finally found someone I can learn from. Scott creates a weekly lesson plan, which he actually tracks! Each week you can easily discern (AND ACHIEVE) the goal he has set."
Slide 8 - Joan B
"Scott is one of those generous, kind and incredibly humble souls. He really has a touch of genius when it comes to teaching drumming. He knows just when and how to mix it up."
Slide 8 - Mark A
"I've been playing drums for decades, but had plateaued as a drummer, so I chose Scott to help me advance. He is a very broad instructor, and has helped me with technique and fixing long-standing bad habits, with groove and feel, with weak-side strengthening, and limb independence that have advanced my latin and jazz playing."
Slide 8 - Tyler W - C
"Thankfully Scott is very patient and encouraging while I work through some of the more difficult techniques with limb independence while creating 4 layer grooves. We clearly seem to be following a path with our lessons and each week builds from the last which I very much appreciate."
Slide 8 - Mark B
"Importantly, he's patient and a good communicator, so I enjoy my lessons and look forward to them. And he's persistent, so he won't let me off the hook when I need to breakthrough in a hard area (sight reading, for example...), yet he keeps it fun."
Slide 8 - Sean
"I have had the privilege of working, playing and taking lessons from Scott over the past 5 years. His drumming ability is top notch in a variety of styles including jazz, funk, rock and blues. He is patient, super chill and uses teaching methods that will get you playing your favorite songs quickly."
---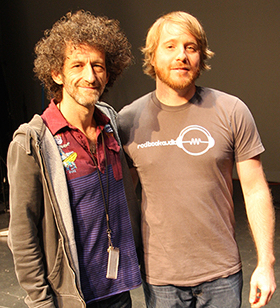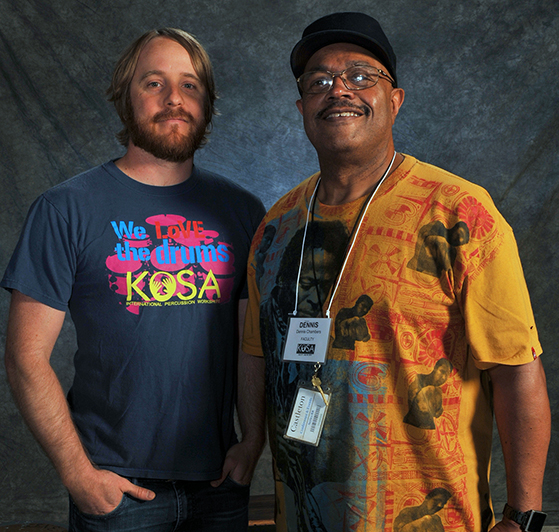 Call me direct,
or
contact me here
.
Working Drummer for over 25 years
Drum Set & Percussion Instructor for 7 years at uCamps Performing Arts Camp, teaching grades 3-12
Employee for KoSA Music, host of world renowned drum camps and festivals
Offering online lessons broadcast from my private studio, using four camera angles and professional level audio
Learn More
Now offering lessons via